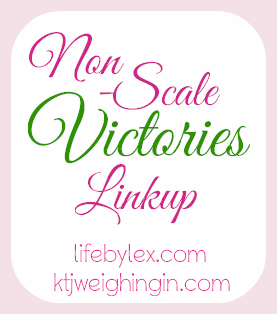 Hey there, Hi there!! Celebrating NSV's with two of my favorite fellow bloggers,
Katie
and
Ashlee
!
I'm late to the party but I have a quick post to share!

1) I've really been trying to up my workouts and I'm loving my new routine! I've combined running and strength training and the past few weeks have been wonderful as far as how I feel; I'm getting quality workouts in. I have always worked out during my journey, but I would flit from this to that and some weeks, even though I'd get them in, my workouts didn't feel as meaningful. Not anymore! You can read about it
here
.
2) The past few weeks have been tough for me emotion-wise. I'm not one to get out and meet people; I used to be such an outgoing person in that sense, but as I've gotten older, I've become choosier and really felt quite fulfilled & happy as far as my friendship circle went. I didn't feel I needed or even wanted to grow that circle. Then, a few years ago, we started hanging out with our neighbors at get togethers in our 'hood, and from there we have just become so super close with some of them. A few months ago, my dear friend Maria and her family found out that they had to move away for her hubby's job. I was devastated, but happy that he would continue to HAVE a job. Still I was so very sad for myself that I wouldn't have my Maria to spend time with anymore. She was my gym/workout buddy on the home front. We were gym rats together and she was my Zumba buddy. Her kids knew that if they came over, Hubby would have something fun or a treat for them or would play with them any time we got together. This morning we had to say goodbye to her and her family as she headed to Colorado. I'm thankful that I was able to spend so much time with her and I know that I will see her again...but my heart is hurting today.
My NSV is that even though things have been crazy with getting them ready to go, and trying to get together and spend as much time with them as possible, I was able to keep my eating under control. We've had get-togethers every single weekend and this past week something going on every single night. In the past, I would let these types of occasions get the best of me and would just get more and more frustrated with my lack of control. But not this time...I stayed in control and I am really proud of myself.

Getting our Zumba Glow On!

She Cray....

So there you have it...just two, but they are two HUGE NSVs for me and honestly, my life has been consumed with them for the past month so that's all I got!